Our Las Vegas Chiropractor Reviews

We value our patients and their care. Read some of our patients' reviews and testimonials about our chiropractic services in Las Vegas.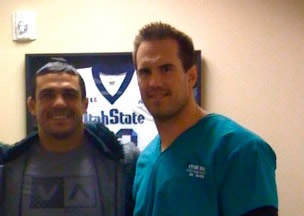 Vitor "The Phenom" Belfort
MMA Champion
---
Thank you, Dr. Cade Smith, for helping me get ready for my next fight!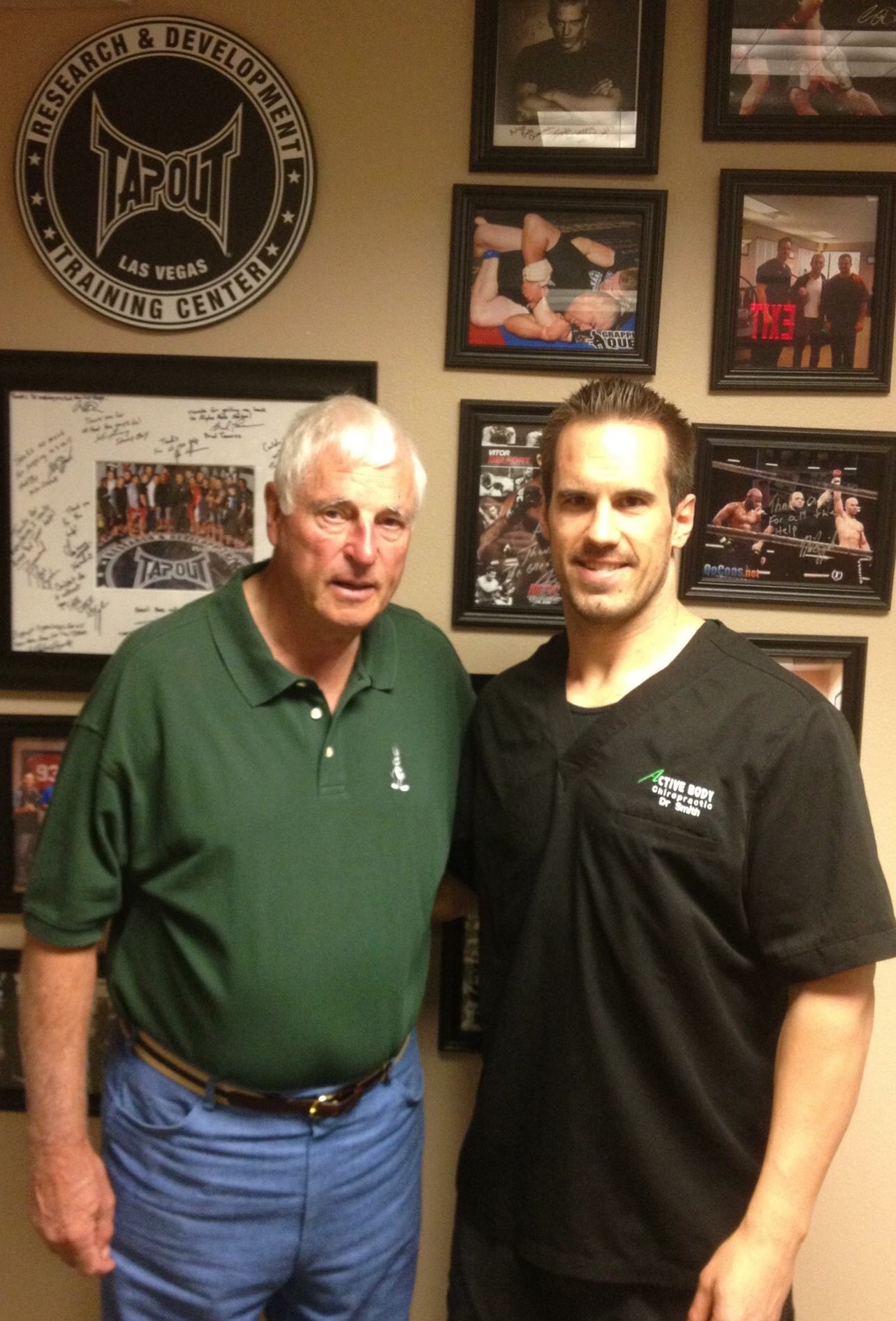 Legendary Coach Bobbie Knight
---
Thank you so much Dr. Cade Smith for helping me with my back pain so I could get back on the golf course!!
Dustin S. Las Vegas, NV
---
5 star staff!! 5 star services!!

Whether you're injured from an accident or just wanting to maintain your health and well being this place does it all. They are true advocates of their patients' overall health and more important, their overall function and mobility! I've never had a bad experience here and find my self coming here more frequently just to get that body "reset" from the day to day beatings we task ourselves with. I highly recommend this place and have full confidence when referring family, friends, and people I know who are seeking a great chiropractor office and massage therapy. KEEP IT UP!!!!!
Cecilia S. Southwest, Las Vegas, NV
---
I had the most wonderful experience here, being treated after my car accident. The staff made me feel so welcome. Dr. Glen was great! He is very personable, knowledgeable and really cares about your recovery. Samantha and Angelica assisted me each time I came in and were so friendly and were always in a great mood with smiles on their faces. I was seen here for 4 & 1/2 months and truly feel a difference in the way I feel, thanks to them.
Paola S. Las Vegas, NV
---
I was so happy when I left because I felt like a new person. When I went in, my body was aching and tight. They did such a great job of adjusting me.  I really enjoyed the chiropractic massage and felt it was a nice touch. I definitely recommend them.
Gene R. Las Vegas, NV
---
Your in a car accident or maybe your body is not feeling up to speed..the last thing you want is to be pumped in and out of a facility like the line at your coffeee shop.a bar that everybody knows your name? Try a chiropractic office where everyone knows your name and make you feel like your a actual person.they don't just rub you down and say ok your cured! They talk about the issues you have and how you need to heal and actually get better.i love this place because the are professional and really take it serious as how you will get better.I am still going through treatment under a lien, and if that doesn't tell you something about their character.
Anthony L. Las Vegas, NV
---
Wow and WOW! I went to a well known competitor once before and trust me never again! Referred all my family and co workers already! I went in with so much pain and have never felt better in many years. The staff is great and the knowledge is there. Will never go anywhere else. I would recommend this place to anyone and everyone
Patrick J. Spring Valley, NV
---
Man, what to say about this place? Im at the gym 6 days a week. I don't stretch as often as I should. I do not lay still when I sleep (pull a neck muscle about 6 times a year ha!) but what actually brought me to this place was a car accident. I started getting lower and upper back pain a day after the accident which I was feeling in the lower back more (at the time). Been to different Chiropractors before where they take your money, crack you and boot you but nothing like this. They actually take X-Rays of you!!! (evaluation).... MY GOD if you ever had a stiff neck, stiff lower back or the feeling that you just wanted to be ripped apart do to the feeling of just wanting to be relieved of this muscle tension.(you know who you are ;p) This is the place for you! They have an inversion table that puts others to shame! No head rush, no feeling of your ankles being ripped apart from hanging upside down, just pure lower back stretching bliss! Oh and their neck machine! Ahhh my gah! Long story short, came in for mainly lower back pain. Found out my neck took more damage than my lower back even though I was strong enough to hold back from the airbag trying to TKFO my A**. Will Definitely be back for more of that beautiful stretching and cracking and zapping oh my!
Riley L. Las Vegas, NV
---
These guys are great. I was pregnant and in a car accident and felt my shoulders were sore. The Dr and the staff were super helpful and friendly, and found the right way to treat me - being pregnant and all. The location was super convent for me and it's great they have some kids toys, my four year old was super happy with them. Overall - great experience!
Tina E. Las Vegas, NV
---
I don't even know where to start. There are so many great things I could say about Active Body Chiropractic, but it would take all day. So let me just tell you that I came into their office in a LOT OF PAIN due to a heavy object falling on top of my head. From the moment I walked into their office I was greeted by 3 truly exceptional ladies at the front desk who were all very kind and compassionate. They remembered my name after only 1 visit and they truly did make me feel like family when I came in. Cory was my rock through my entire recovery, (I love you girl) Samantha and Angelica never miss a beat from scheduling up front to hands on assistance in the back. And Dr. Glenn should should be the example that all other care providers follow. He listened to every concern I had and addressed each one of them every time. He educated me on how everything that was causing me pain and what was needed to correct it, not only in their office, but in my personal time as well. He was never anything but warm and truly concerned with my pain and my improvement. There should be a statue of this man wearing his baby blue scrubs and set outside of the building. LOL. As far as the scheduling of appointments went, there was never an issue reaching them by phone. They always accommodated my need to move or change appointment times. I never one time waited to be treated when I arrived. The facility offers various treatment options. The neck stretch machine was very intimidating at first as I watched them strap a head harness on the patient, similar to that of which you see when a dog goes on the table to be groomed, hahahaha, but it instantly became my favorite part of the treatment because of the instant relief felt from having the pressure removed from my neck being compressed. The massage tables are a very relaxing way to end the office visit. Combine the treatment plan with the constant mental support from the staff and there truly is nowhere else that comes close to comparing to Active Body Chiropractic. I owe everything to this establishment and I no longer wake up every day in pain wondering if I'll ever feel good again. Thank you Active Body Chiropractic for not only your effective treatment methods, but for you professionalism, compassion and over the top customer service. You are THE BEST!!
---
Let me just say, had i not gotten into a motor vehicle accident I would have not been able to cross paths with such wonderful office staff. Dr. Glen and Dr. Smith have restored my strength, and provided adjustments that have diminished my pain and made me feel better as a whole. Not to mention the ladies, ms samantha and ms angelica are always very sweet, and getting a hold of them is very easy. They are very accommodating with regards to scheduling appointments based on my availability and convenience. I have had therapy for about 3-4x's a week since july of this year and let me mention, it is not your ordinary typical doctors visit that you dread. Every visit was somthing to look forward to. I would definitely recommend acrive body to anyone in pain or has been in an accident, the doctors know their stuff. Thank you for your services!
Siemone K. Las Vegas, NV
---
Active body chiropractic has been amazing. I was introduced to them because of my car accident and they did an amazing job treating my injuries. They are caring, professional and sincere. The staff is 5 stars all the way. I would recommend them to anyone who is looking for a good chiropractor or masseuse.
Ann G. West Covina, CA
---
This place is awesome! The staff is great!

They really care about your well being.  

I've been going for about 10 months for my back pain.

They've been very helpful and accommodating.

I'm grateful to have found this place.  I love the

the exercises they have me do and the adjustments are phenomenal!  Dr. Glen is pretty good at adjusting me. i walk out feeling like a new person every time.

They now have a massage therapist whom I go to twice a month. It's awesome!
Leila W. Las Vegas, NV
---
I am so happy to be a patient here. I started coming here about two months ago because of my sciatica and the docs have been very helpful and caring. A couple of weeks ago I damaged my ankle very badly and the both of the chiropractors have looked at it, adjusted it, and helped me more than a regular doctor would. These men truly care about helping their patients. The girls in the office are also so sweet and helpful
Tiffany B. Las Vegas, NV
---
This place has brought comfortable movement back into life! It's rare to find a friendly front desk staff but here that is absolutely NOT the case! The front desk staff is just icing on the cake. The Dr.s here make you feel comfortable if your a little afraid of Chiro work like I was and know their stuff. I never sit waiting and always leave feeling amazing. You won't be disappointed bringing your chiropractic needs to this office.
Ryan F. Las Vegas, NV
---
So apparently 30 is the new 50 for me and I threw my back out getting out of bed  about a year ago. I couldn't believe it either. Needless to say, it hurt....alot. I was unable to even get off the couch or lift my arms for the first day with out the sensation of red hot knifes being jammed in between my 4th and 5th vertebrae . So, I found a chiropractor that was close to my work and stumbled upon Active body and Dr Cade.  He was very friendly and helpful on my road to recovery. On my first trip he did not do a full adjustment as he said it would most likely do more damage than good until my back loosened up a bit, so he stretched me our a bit, did some electronic treatment on my back, gave me an anti-inflammatory drink and wanted me to come back in a few days. I felt a little better, but after the first trip I was still barley able to walk. The sweetheart at the front desk actually helped me out to my car!!!  

 After about a week or two and few more trips to Dr Smith my back was as good as new! I would recommend Active body to anyone who needs a chiropractor!
Lisa Leathers
---
"What can I say about Dr. Richardson? We love her! She has been absolutely great to all of us. I've been bringing in my other three children while she works on my seven year old, and everyone here has been so warm and patient with us! Thank you! My child being treated has shown dramatic improvement from being in a lot of pain constantly to a vibrant seven year old again a short time. Quincy asks me every time if he gets to see Dr. Richardson or not. He really looks forward to his visits with her not only because of how she is but because of how much better he feels. I personally don't think chiropractors get better than her and the ones found in this office! Thank you for everything!!! We will definitely refer Active Body to all our friends and already have started."
Quincy Leathers
---
"Thank you for making me feel better."
Beth V. Walker
---
"What I appreciate most about the doctors at Active Body Chiropractic is their HOLISTIC approach to making me and my family healthier. They really take the time to understand the background of the situation, discuss the many different ways problems can be solved, and identify practical, cost-effective (in terms of time and money) methods for solving health issues.

Most important—to me—is I always feel the doctors have my best interest at heart. The results I have personally experienced have been exceptional and the work they've done with my son has given me tremendous peace of mind.

Without question, Active Body Chiropractic is my preferred medical office—I'll always start with them when it comes to my health and wellbeing."
Jessica Hale
---
"I was recommended to Active Body Chiropractic by a coworker who suffered similar, work-related problems. At that time, I was having tension headaches and neck pain daily for a week at a time. I had resigned myself to these ailments as I realized they stemmed from my working posture.

When I received my diagnostic exam at Active Body, I was a little worried to hear the severity of my misalignment and shocked at the x-ray pictures. I was also hopeful of the doctors' plan to get me out of pain and to correct my problems with their traction device. Since that first visit, I have been most pleased with the results I have seen.

All three doctors have been very helpful throughout the therapy. Their adjustments gave my immediate relief and over time my headaches went away, my neck pain decreased, and I had improved overall mobility in my previously, super stiff neck. Dr. Richardson gave me lots of help and advice to improve my posture. She taught me stretching techniques and exercises that have made a very noticeable change in the position of my shoulders and upper back. Along with the unique traction system and their attentive care, I have experienced amazing results. I am very grateful to them for the changes that I have noticed and have cause to appreciate every day.

Now I recommend Active Body to other coworkers in pain. I am happy to do so because I know they will receive the same excellent care that I did.

Thank you so much to Dr. Richardson and Smith for giving me relief from my pain and a better daily life."
Bob and Ronnie
---
To the Drs. and staff at Active Body Chiropractic. 'Thank you.' Hard to express in words how much I appreciate the overwhelming attention and care all of you have shown my wife and I. The change in us is undeniable.

When I first came to Active Body Chiropractic, I could hardly walk. I truly suffered from lower back pain. I felt so strongly that I would be stuck in this condition the rest of my life. It was a hard thing to accept.

After our first meeting, I was confident this was the group of people that could help. After the third visit, I was feeling better, and by the fifth treatment, I was 90% pain free. I would like to personally thank all of you again. We look forward to our visits and enjoy our time there with all of you.

Dr. Eric, Dr. Cade, and Dr. Leslie, I would like to acknowledge your commitment to our getting better. We are convinced our health is your priority.

In closing, you guys are awesome!! Dr. Homea, I can't express our gratitude enough. Thank you for all you do. Dr. Smith, I will never forget you, you are my hero. Dr. Richardson, Ronnie does not stop talking about how smart you are. Have a long and successful career, what you do is important. You all possess the power to make a difference.

With all of our appreciation

Your friends always"
Happy patient Michael Williams
---
"I'm 48 and have heard of the virtues of Chiropractic treatment but have never sought their services. While at LVAC in the spring, I stopped by the ABC kiosk where I met Drs. Richardson, Smith, and Homa. They made it easy to get started so I went for my x-ray and follow-up consultation. I'm glad I did. It was discovered I had Cervical Kyphosis—loss of Cervical Curve in my neck.

A normal cervical "lordosis" measures as a 31 to 40 degree curve. Researchers found that patients with curves of 20 degrees or less experienced neck pain associated with the condition. Mine was around 17 degrees. After treatment with their cutting edge tools and a follow-up x-ray, we've seen a significant change in the cervical lordosis from 17 degrees and 28 degrees. Our treatments continue, but the progress we've made has shown great promise for a full recovery.

The office is professional, but you hear a lot of laughter and friendly conversations taking place all around. Kids are welcome, too. The doctors all have a passion for their craft and as athletes their approach to treatment is with the understanding of what you're experiencing as they may have had treatment for your same injury."
Catherine Thompson
---
"Many thanks to Dr. Leslie Richardson and all of her colleagues at Active Body Chiropractic. Just three weeks ago, I was referred to Dr. Richardson after experiencing acute back and leg pain. Following a logical course of action determining the cause, getting me out of pain, and making the necessary corrections, my symptoms improved greatly and quickly! I am now looking forward to maintenance.

I am so appreciative of Dr. Richardson and everyone on the staff—their professionalism, compassion, and encouragement made a world of difference. While healing does take time, by following Dr. Richardson's instructions, I received the very best care I could hope for! Thank you!"