Don't Let Neck Pain Throw a Wrench in Your Day
Whether you've been in an automobile accident or have been suffering silently at your desk, our experienced team of chiropractic professionals can help. Choosing to look into a chiropractor for neck pain is an effective, nonsurgical option that will not only reduce your neck pain but also improve your overall health through the implementation of the techniques and treatments we offer at Active Body Chiropractic.
The Right Chiropractor for Neck Pain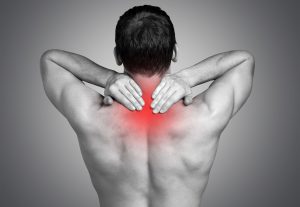 Before deciding which care approach is right for you, our dedicated team of chiropractic professionals will perform a comprehensive evaluation of your overall health to better inform your patient care plan. From there, one of our experienced chiropractic physicians will evaluate not just your neck but your spine and back as a whole. At Active Body Chiropractic, our focus is holistic health and recovery, which means that we take into consideration the "whole person" as opposed to a patient with a symptom. This is particularly important in the field of chiropractic care as symptoms like severe or chronic neck pain are very rarely isolatable.
Our teams have been trained to use a combination of clinically proven techniques, including spinal manipulation, physical therapy, and instrument-assisted therapy. Depending on your kind of neck pain and the results of your comprehensive, our chiropractors will develop an individualized treatment regime that will reduce your pain and provide long-term relief.
Some of the techniques we use include:
Cervical Manual Traction & Mobilization

Flexion-distraction technique

HALO Technology

Instrument-assisted manipulation

Instrument-assisted soft tissue therapy

Interferential Electrical Therapy (IFT)

Manual Joint Stretching & Resistance Techniques

Specific spinal manipulation

Therapeutic Massage

Therapeutic Exercises

Trigger Point Therapy

Ultrasound Therapy
Keep in mind your individual treatment regime will include personalized therapies and techniques that are specific to your kind of pain. Contact us to schedule a comprehensive consultation and to learn more about how we can provide you the neck pain chiropractic care you need.
Enjoy Life to the Fullest and Find the Right Lower Back Pain Chiropractor
Regardless of your age of level of health, about 80% of adults experience lower back pain at some point in their lives. Not only is lower back pain one of the most common causes of job-related disabilities, but it is also the leading contributor to missed work days. According to the Bureau of Labor Statistics, not only did work-related strains, tears, and soreness account for more than half causes of missed days of work, their research also showed that people who suffer from this kind of pain are kept out of work longer than any other kind of illness or injury.
Don't grapple with your lower back pain alone.
Lower back is experienced by men and women of all ages, and our team is trained to help you find the treatment regime that works for you. At Active Body Chiropractic, we are well aware that the sources of your lower back pain are not only specific to you and your lifestyle, they're also multi-dimensional. That's why our chiropractors specialize in delivering comprehensive patient care plans for each and every one of our clients, including lower back pain. By focusing on your "entire self," we can help you achieve long-term and sustainable recovery.
Some common sources of lower back pain that our team can help you with include:
Herniated or Ruptured Discs

Intervertebral Disc Degeneration

Lordosis

Radiculopathy

Sciatica

Spondylolisthesis

Spinal Stenosis

Sprains, Strains, and Spasms

Skeletal Irregularities

Congenital Anomalies

Scoliosis

Traumatic Injuries
Whether your pain has developed over time or is the result of a sudden injury or accident, our experienced chiropractic physicians will work with you to develop an individualized program that takes into consideration your body's ability to recover in addition to your treatment needs.